This content available in English only:
As China is still perfecting its single-use plastic legislation, the abundance of delivery orders also means more plastic use and waste. Notoriously hard to dispose of, plastic waste is already swamping many cities in China.
Aware of their impact on the environment, China's delivery platforms Eleme and Meituan, which account for more than 95% of the market, have introduced a function that forces users to choose whether or not they need disposable cutlery. In 2017, Meituan even committed to a green plan to reduce the impact of single-use plastic waste.
However, further efforts are needed to curb the impact of the overwhelming amount of plastic containers used every day in urban centers.
Food packaging is very lightweight and must be washed before recycling, making for a longer and less cost-effective recycling process. As a direct result, most of it ends up in landfills or goes into the ocean, making China responsible for 28% of plastic waste polluting the oceans.
To deal with the problem of floating garbage, Hong Kong launched diesel-fueled barges to patrol its harbor, picking up bottles, containers, and anything thrown into the water.
However, these barges are far from being sustainable: they burn fossil fuels, effectively polluting the bay while they clean up.
Sidhant Gupta thought automation and artificial intelligence could be the key to improving the process. In 2019, he co-founded ClearBot, a startup that manufactures self-driving, AI-powered boats for pollution recovery.
"In Hong Kong, there are about 80 boats constantly trying to fish trash out of the water," Gupta tells RADII, adding, "ClearBot is much more cost-effective because it runs on electricity and requires no manpower. We are actually cutting the cost while decreasing the environmental impact."
The bots developed by Gupta and his team are an outstanding example of innovative technology serving purposes in support of environmental stewardship. "With artificial intelligence, we are able to identify different objects in the water, then our boat zigzags across the area and collects all the waste," he explains.
Gupta hopes the data collected through AI can benefit governments and companies dealing with plastic pollution in the ocean and that ClearBot will scale up and be implemented by institutions worldwide.
At the same time, he has grown increasingly aware that the plastic problem needs to be solved at its root: "The more we do cleanup work, the more data we gather from our machines. What we learned is that to solve the ecological problem, we have to control the materials at the source."
Get to know more on YouTube:
Video here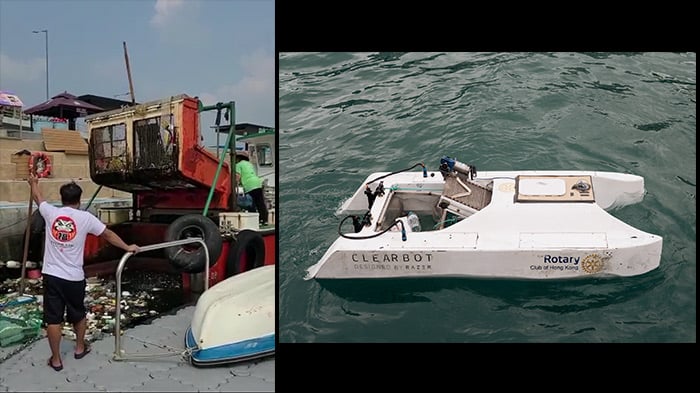 ​