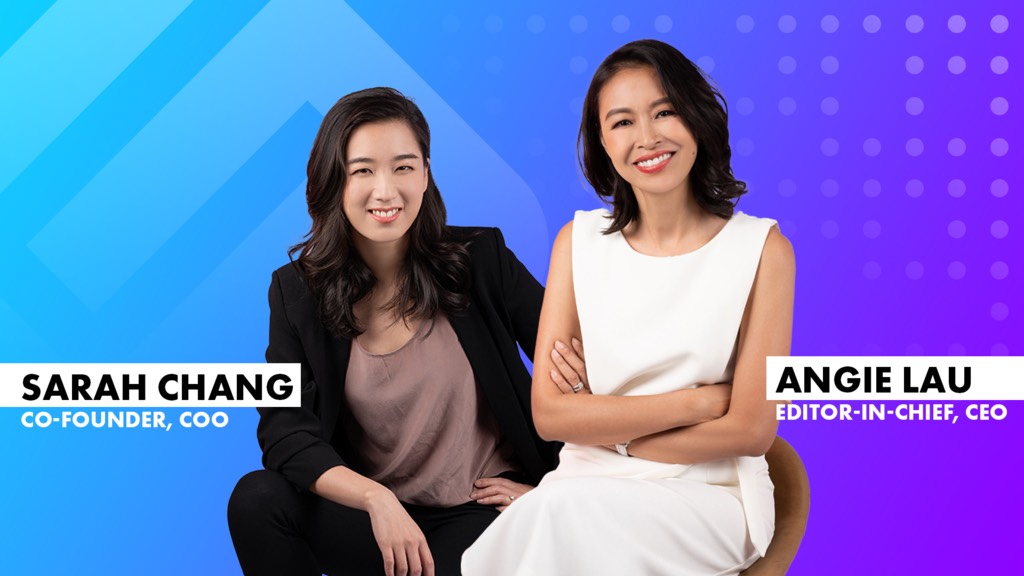 此內容只提供英文版本
While it is prescient now, Forkast.News, a digital media platform focusing on cryptocurrency, Bitcoin and blockchain, had its share of naysayers when it was founded back in 2018.
In fact, many thought they were"crazy"as Forkast was set up when market interest in blockchain and cryptocurrency was at a low point, Angie Lau and Sarah Chang, co-founders of Forkast, an Alibaba Entrepreneurs Fund portfolio company, shared in an interview with Cindy Chow, executive director of the Alibaba Hong Kong Entrepreneurs Fund.
But the two preserved, with the strong belief that Asia was lacking in coverage of blockchain and cryptocurrency - especially considering so much of the innovation happened- and is happening-in the region, and that they were the best people to tell the story.
"There's not really a voice like ours out of Asia. Most of the innovation is happening here and when you just take a step back, you will see there's so many signs pointing to the next century as being one led by Asia in many ways,"says Chang.
The secret sauce(s) to success
The two met when Lau was at Horizons Ventures. Lau was an advisor at the Hong Kong-based VC firm, and Chang ran a business the firm invested in.
The fact that they came from different backgrounds proved to be advantageous for Forkast. While Lau hails from the world of media, Chang's background and experience are firmly rooted in start-ups and consulting.
"I have very specific skill sets that complement Sarah's but don't necessarily overlap. Sarah has got incredible skill sets that I really don't have much experience or expertise in. The two of us together really amplify each other's skill sets and it's like one plus one equals 11 for us,"says Lau.
Lau says it's crucial for company founders to have "highly aligned values."
While healthy debates are essential, the founders' goals and hopes for the company need to be aligned. In the case of Forkast, it's understanding that stories about blockchain and crypto need to be told from Asia, as well as having that genuine interest in the technology.
The two aren't only interested in covering the latest development in the technology, but also thinking about how technology can be applied in the media industry. As Chang notes, "I do feel that there must be a way to make use of the technology to do something for the media. So that we will have less fake news, more credibility, and a better world."
Forkast is also a deeply personal project for Lau, who says the idea for the digital media platform germinated after she gave birth to her son. "He's now four years old. For me, it is a personal commitment to him and his generation that if you don't understand the future, you will never see your place in it"
This constant need to make sense of an ever-changing world around us is poetically embedded in the title of the company itself. While Forkast reads like'forecast', F-O-R-K, in blockchain terminology, is when you break from the main protocol and change the existing trajectory.
Lau also notes the importance of the initial testing and learning period."In the early phase, we had the luxury of trying things out and making mistakes without being beholden to anyone. By doing so, we really accelerated our learning. Now, as we are taking investors'dollars, we know exactly where to put that money to accelerate growth and scale up monetization."
Meanwhile, an agile mindset allowed Forkast to turn a negative into a positive during Covid.
"We have people on multiple continents all over the world. As we optimize for the right person, especially someone who is excited to build up Forkast with us, geography doesn't get in the way. By allowing all team members, no matter where they are located, to be on an even playing field and have an equal chance to participate is one of our biggest strengths."
This kind of agility, combined with an acute understanding of an existing marketing challenge and founders' chemistry, are perhaps why Forkast is going strong in an industry with high failure rates.
Tips for aspiring female entrepreneurs
Yet, there are also factors that are perhaps beyond the control of founders.
The venture capitalist world is known for its big gender divide. Men make up 91% of the venture capitalist industry's executive ranks in a world when the number of female-owned businesses has risen around the world. What advice do Lau and Chang have for aspiring female entrepreneurs pitching to male-dominated venture capitalist firms?
"This is what I would like to say to female founders. You are not in a supplicant position. You are in a position of power. You get to choose. You get to choose how you tell your story. You get to choose how you present your ideas and you get to choose if you want to invite this investor into your round,"notes Lau.
And nobody knows the art of story-telling better than Lau, who has over two decades of experience in media.
It's been two years since Lau and Chang established Forkast.
What does success mean for them?"Success defined by others is a very fickle thing. Success defined by you is very constant. When you achieve the success that you want, it is a feeling of happiness, contentment and achievement. One important question to ask yourself is: are you having fun?" Lau notes.
Meanwhile, Chang thinks success is having that ability to work on intellectually-interesting problems."With Forkast, I get to do that every day. So, I feel very lucky."