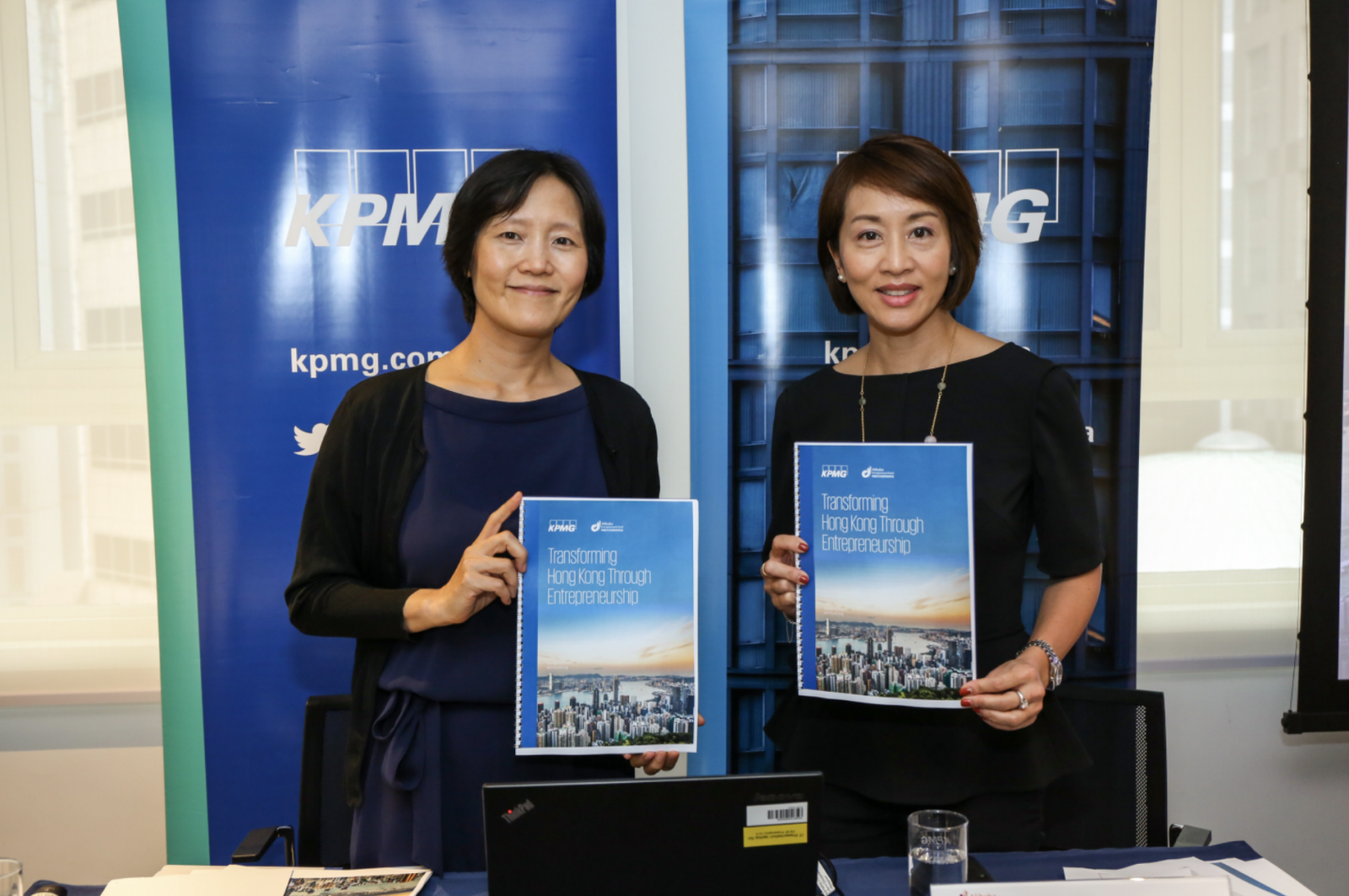 Lack of funding and support are main development hurdles
Hong Kong is currently considered a leading start-up location, with student respondents ranking it third behind the China Greater Bay Area and Singapore, and ahead of other innovation hubs globally such as Silicon Valley, Israel and London, according to a joint study by KPMG China and the Alibaba Hong Kong Entrepreneurs Fund.
According to the study, Hong Kong's ambition to become a leading technology and innovation hub hinges on how entrepreneurship develops in the new economy. The study also shows Hong Kong has inspiring entrepreneurs who want to drive change. Their ambition, though, is inhibited by a number of hurdles, including limited access to funding, research and mentor resources, as well as lack of family and friends support. These limitations will need to be overcome to further promote entrepreneurship in the city, the study concluded.
The study, titled
Transforming Hong Kong Through Entrepreneurship

,
contains insights from two separate surveys, one of 100 entrepreneurs and the other of over 300 university students. It also presents the viewpoints of a number of government agencies, academics and other key opinion leaders in Hong Kong.
The study reveals that entrepreneurship can generate significant positive impact. In addition to developing new technologies or products, entrepreneur respondents indicated that advancing community development, playing a proactive role in changing the world and solving problems for people they strongly identified with are other key motivations for starting their own businesses. Student respondents echoed this finding.
"Having a dynamic entrepreneurial landscape is vital to Hong Kong's long-term economic and social development and overall competitiveness," says Irene Chu, Head of New Economy and Life Sciences, Hong Kong, KPMG China. "Entrepreneurship can maximise the opportunities disruptive technologies and digitisation are creating and support Hong Kong's ambitions to be a major technology and innovation hub."
However, Hong Kong has yet to develop a strong entrepreneurial mindset. Only 15 percent of entrepreneur respondents believe the city's entrepreneurial mindset to be a key competitive edge, an area that needs to improve for Hong Kong's tech ambitions to take off.
The study uncovered a number of other hurdles that will need to be addressed to promote the long-term development of entrepreneurship in Hong Kong.
• Funding: There is a relative lack of institutional funding for start-ups, with personal savings (82 percent) and family savings (54 percent) still the top two sources of capital.
• Resource support: While Hong Kong has world-class research institutes and an increasing number of co-working space and start-up programs, only 15 percent of entrepreneur respondents make use of official R&D support, and 10 percent use mentoring.
• Risk-averse social environment: Even though there is a desire from entrepreneurs and students to drive change and make a difference, societal expectations are preventing them from making bolder decisions such as starting their own business. Support from family and friends to pursue an entrepreneurial career is low.
• Capturing mainland China/Greater Bay Area opportunities: Hong Kong is not fully capitalising on its role as the gateway into mainland China. While the Greater Bay Area is considered the best place to start a business, only 31 percent of entrepreneur respondents believe Hong Kong startups are well-connected with other businesses in the region.
To ensure that Hong Kong is able to create a vibrant entrepreneurial ecosystem and maintain its long-term competitiveness, the study highlights a number of key recommendations that prioritise the greater flow of knowledge, capabilities and capital. This includes actively attracting venture capital, encourage corporate funding support and establish a broader and more-active mentor platform, which would increase the risk appetite of investors, entrepreneurs and the public. Also, leveraging the Greater Bay Area's advantages would provide additional impetus to enhance the collaboration between Hong Kong and the mainland.
"A strong sense of purpose and effective, relevant and enabling support structures are required to drive innovation," KPMG's Chu says. "Innovative ideas can only be commercialised under the right environment and with the necessary support, while an ecosystem with strong capabilities, but which lacks purpose, will struggle to sustain innovation and drive the economy forward."
"The survey results provide us good insights into how our Fund can do more to help the younger generation pursue its entrepreneurial ambitions," says Cindy Chow, Executive Director of Alibaba Hong Kong Entrepreneurs Fund. "We will work with relevant stakeholders to address the issues identified and continue to support similar studies to understand the development of the city's entrepreneurial landscape. We will continue to deploy our resources to help start-up founders in Hong Kong realize their dreams."