AQUMON Bespoke addresses the gap between mass and super affluent to uncover further growth potential for quantitative investments.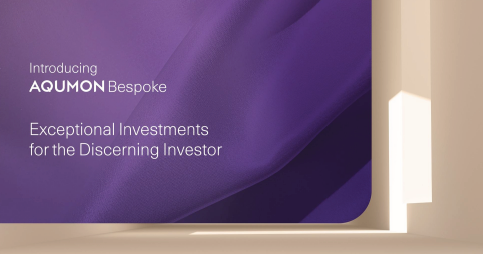 Riding along with the wave of rapid digitization in the financial industry, AQUMON eyes growth opportunities within the mass affluent segment, external asset managers (EAM) and family offices through their new Bespoke offering. AQUMON, the app-based investment platform known for providing smarter, simpler, and more affordable investment services is expanding its business model to offer more sophisticated and bepoke services to mass affluent and professional investors. AQUMON Bespoke is a comprehensive advisory solution that helps clients construct a robust and custom-tailored portfolio that navigates market volatility while seeking market outperformance.
Leveraging AQUMON's award-winning algorithms, clients can fully customize their risk preferences, sector, and industry allocations. In addition, through Bespoke, clients are able to gain access to a wider range of investment products including private equity solutions. With the support of AQUMON's all-new SmartAdvice function, Bespoke clients can now enjoy immediate, hyper-personalised, and actionable insights and portfolio recommendations. The rollout of AQUMON Bespoke follows the rapid growth of the Fintech company during the pandemic. In 2021 alone, the home-grown digital wealth management brand has launched over 4 new product-to-markets including its freshly rebranded Flagship series SmartGlobal, Thematic Stock Portfolios, and all new stock-trading capabilities. The company reports a strong increase of 400% growth in assets as well as a 323% increase in account openings year on year.
The new service reflects AQUMON's strategic focus on the affluent segment as part of its expansion in the Asian wealth business. This population, including mass affluent investors (holding liquid assets of US$50,000–$1m), high-net-worth (HNW) individuals (holding liquid assets of more than US$1m), is expected to grow by 7.8% to reach 3.9 million by year-end, according to GlobalData.1 Moreover, under the latest government initiatives, Hong Kong is bolstering its position as Asia's leading wealth management hub and has become increasingly more attractive to family offices in the region. The establishment of AQUMON's Bespoke service will also focus on the family offices' diverse needs and offer novel investment strategies for wealth preservation and succession.
"We are in the midst of increased affluence in Hong Kong as well as in Greater China. The new generation of digitally-native clients is looking for more personalized services and
unique investment solutions. We are also seeing an increase in family offices and EAMs setting up operations in Hong Kong, they are also looking for new investment models that
are better suited to their needs and investment appetites. It is exciting that AQUMON is able to tap into this new clientele by offering data-driven and scientific investment products that are fully tailored to their preferences. We see this as the next logical step for the company in our efforts to revolutionize the wealth management industry," comments Kelvin Lei, CEO &
Co-Founder of AQUMON.
Bespoke covers a diverse range of investment products and solutions including equity, bonds, structured products, commodities, and alternatives. AQUMON Bespoke clients are also supported by one-to-one professional wealth managers alongside award-winning quantitative investment strategies and cutting-edge investment technologies.