Alibaba Hong Kong Entrepreneurs Fund launches
JUMPSTARTER 2021 Global Pitch Competition
World's largest online startup contest supercharges innovative thinking
Hong Kong, July 28, 2020
– Alibaba Hong Kong Entrepreneurs Fund today kicked off JUMPSTARTER 2021 Global Pitch Competition (JUMPSTARTER 2021), its annual signature startup event, with an online focus to ensure safe participation for all contestants during the COVID-19 pandemic. JUMPSTARTER 2021 is on track to become the world's largest online startup contest by number of contestants, with 200 one-on-one online pitches expected.
JUMPSTARTER 2021 is now open for applications. There are three separate deadlines between August 31 and October 19, 2020, covering three rounds of applications (see Appendix). Up to 200 startups will be selected for a preliminary round of one-on-one online pitches between September and November. The best 20 startups selected from the preliminary round will advance to a semifinal pitch from which 10 startups will be shortlisted. The Grand Finale will be held in March 2021, when the finalists will compete for up to USD1 million in investment.
JUMPSTARTER 2021 will offer startups the platform to network and share knowledge with global peers and the opportunity to plug into the Alibaba Digital Economy to obtain valuable insights, experience and resources.
In addition, the top five startups from the contest will be eligible to take part in the eFounders Fellowship program. Co-organized by Alibaba Business School and the United Nations Conference on Trade and Development, the program supports global digital economic development and nurtures entrepreneurs.
"Alibaba Hong Kong Entrepreneurs Fund is committed to bringing together global startups, entrepreneurs and investors through JUMPSTARTER 2021, attracting talented individuals with innovative ideas to develop them further in Hong Kong, and strengthening the city as a world-leading hub of entrepreneurship," said
Cindy Chow, Executive Director of Alibaba Hong Kong Entrepreneurs Fund.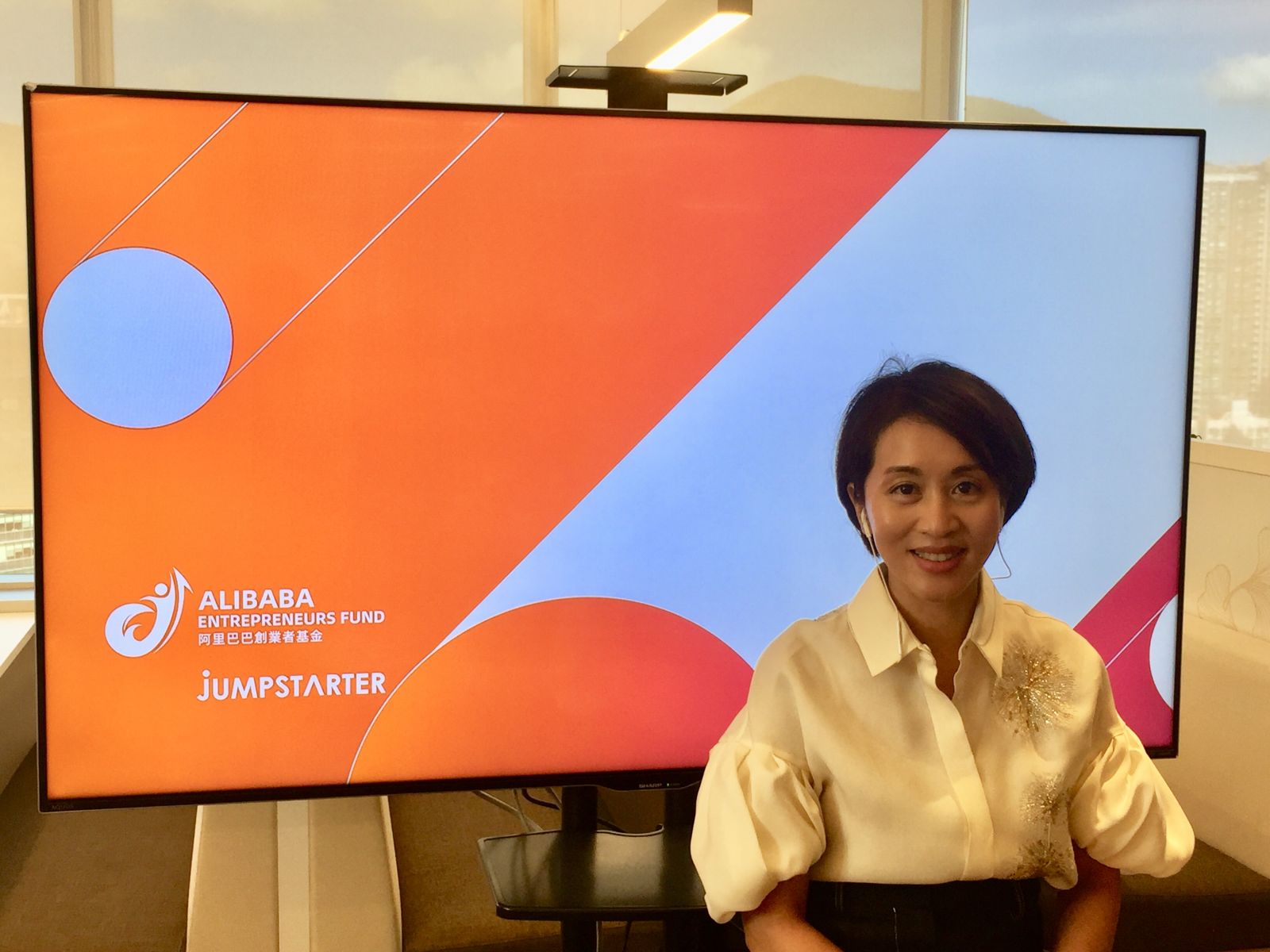 Building on the success of last year's event, JUMPSTARTER 2021 will again boast a global reach in terms of participants, but will remain focused on cultivating startups in the retail, fintech, smart city and deep tech sectors, all of which are important priorities for Hong Kong's long-term economic growth.
Giving Back to Society
The creative ideas, innovation and entrepreneurial spirit of startups not only fuel business and commercial activities, but also bring positive change to local communities. This year, JUMPSTARTER 2021 encourages startups to think of different ways to contribute to the society. For the first time, JUMPSTARTER 2021 is introducing awards on "Innovation", "Social Impact" and "Women and Entrepreneurship", with the objective of raising awareness about the needs in these areas.
"We encourage startups to give back to the society and become socially responsible companies. We hope the participants can gain valuable experience from the event and identify new opportunities in the region, and even leverage their development in Hong Kong as a stepping stone into the global arena," said
Chow
.
Last year's JUMPSTARTER 2020 attracted more than 2,000 applications from startups in 65 countries and regions around the world. Because of the pandemic, the Grand Finale was hosted online to showcase the finalists' entrepreneurial spirit and their commitment to embrace change. The Grand Finale drew an enthusiastic response from around 20,000 supporters across 100 countries and regions.
Investments in 41 Startups Since Establishment
"Hong Kong and other markets across the globe have faced highs and lows over the past year. We have seen many startups continue to progress with innovative and flexible thinking. Some of them have also been active in the fight against the virus. It's important to note that COVID-19 hasn't curbed the support given to startups by Alibaba Hong Kong Entrepreneurs Fund,"
Chow
added.
"Looking ahead, we will continue to focus on cultivating the startup landscape, fostering entrepreneurial thinking amongst young people, and partnering with like-minded organizations to provide support. This will help Hong Kong's startup ecosystem to flourish."
Since its establishment until March 31, 2020, Alibaba Hong Kong Entrepreneurs Fund has invested USD60 million into 41 startups (including HKAI LAB). During the 12-month period ended on March 31, 2020, the Fund made 15 new investments and four follow-on investments (excluding HKAI LAB). Its investment portfolio covers a range of areas, including green technology, educational technology, fintech, medical and healthcare, logistics and e-commerce.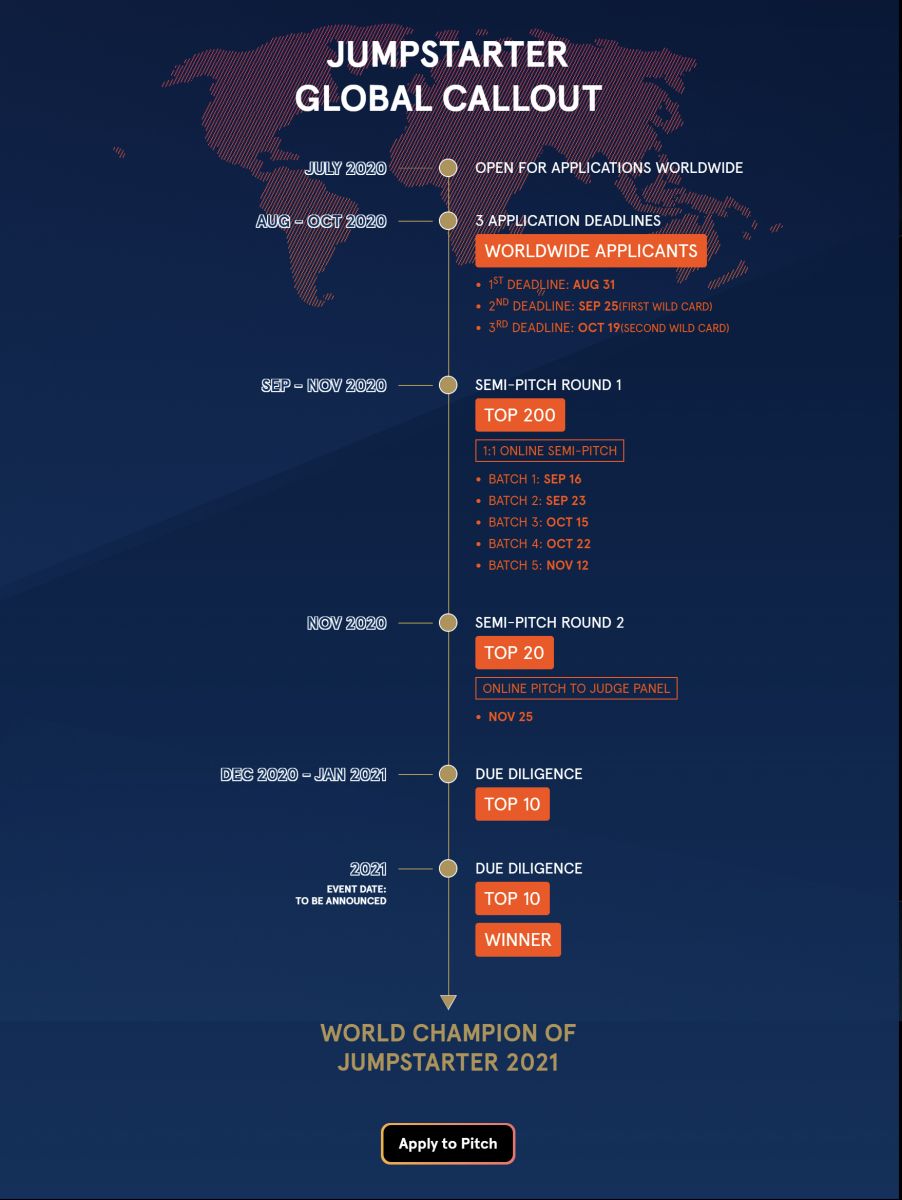 JUMPSTARTER 2021 is now open for applications. Interested parties can visit
www.jumpstarter.hk
for more information.